Closer, wider, brighter
F2.5, 25mm, 5X Zoom Lens / 16.2 Mega PixelsWhen you're taking pictures at a performance, make every seat the best seat in the house. The 5x optical zoom gives you great close-ups, even from the back row. Up front? The 25mm wide-angle lens captures all the action on stage. And the combination of 16.2 megapixels and F2.5 lens give you high quality images — even in dim lights.
HD movies in the palm of your hand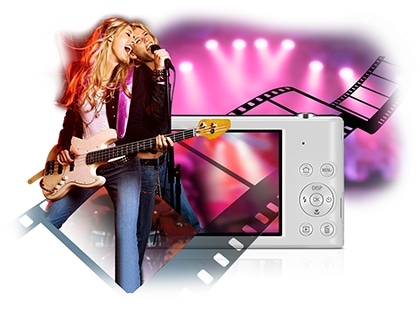 HD Movie Recording (720p, 30fps, MPEG)Inside this stylish, yet powerful camera, capture 720p HD-quality MPEG video at 30 frames per second —clearer than the average compact digital camera video. From the concert hall to birthday parties get HD-quality videos wherever you are.
See what you are going to get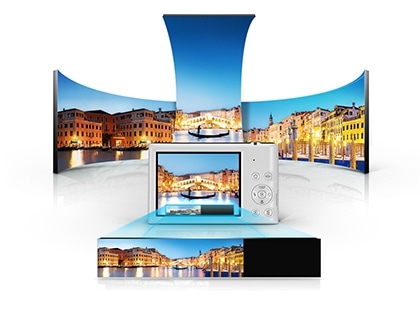 Live PanoramaWith Live Panorama, you can capture a seemingly endless procession of gondolas gliding past a magnificent Venetian palace with an astounding 180º panoramic image. And you can preview the image on the LCD before you even snap it. Just hold the shutter button, sweep across the scene and see what you're going to get before you get it.
The simple way to go pro
Smart AutoThe Samsung SMART CAMERA's Smart Auto automatically analyzes the shooting environment and then chooses the appropriate scene mode for the best possible results. Smart Auto analyzes key elements in the composition and automatically adjusts its 16 photo modes and 4 movie modes to capture the best shot.
When it comes to brightness, it's brilliant : 3.0″(75mm) Intelligent LCD
3.0″(75mm) Intelligent LCDIts 3.0″(75mm) Intelligent LCD provides for improved contrast and color reproduction, which allows you to enjoy a wider and clearer image. And its Intelligent LCD brightness automatically detects environmental illumination and adjusts the LCD brightness for optimal image viewing. It does the thinking for you, which makes the SMART CAMERA a smart choice.
Add action to your still photos
Motion PhotoWith Motion Photo, you can freeze time around a moving subject to create enchanting images. Capture a friend dancing while everyone else around him is still as a statue—just like in a Hollywood blockbuster. Simply shoot the footage, and then rub the area on the display where you want action. The photo around it will freeze—it's that easy.

Magic Frame
Make a portrait look like an antique, or put your face on the moon — Magic Frame's 12 background templates offer lots of picture-taking enjoyment. You can also put images on a 1950's TV set or a movie. There are so many possibilities for fun — especially when you share the poster-quality results!

Smart Filter
Boost creative fun with the Smart Filter –right on the display! Cartoon filter makes any photo look like an animated film scene while Cross Filter makes light sources appear to have several points of light, like stars. There's also Ink Painting, Half-tone Dot and more ways for you to express your creative side.